Ruby always served it hot, but it's pretty darn awesome mixed with your favorite spirit over ice. Hot Ruby was originally made to serve hot, and enjoy on cold winter days — but we're all about versatility. You can also serve Hot Ruby chilled, or with a splash of sparkling water for a bubbly kick. Add in some spirits for an extra special treat! Hot Ruby has endless drink combinations. Experiment and share your creations with us on Facebook. Check out some of our favorites: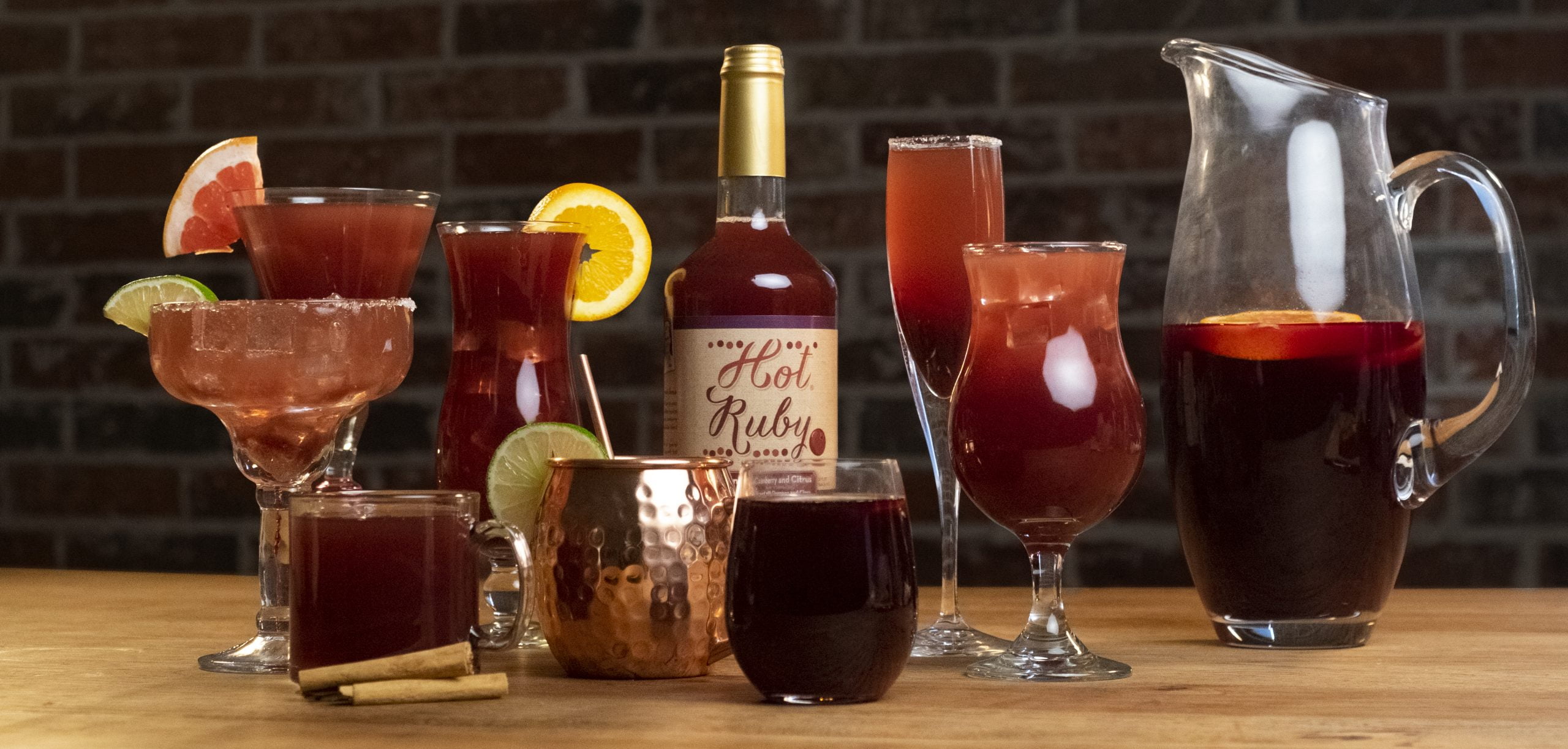 View All Recipes
Cocktail Mixers
Non-Alcoholic Mixers
View All Recipes
Cocktail Mixers
Non-Alcoholic Mixers
Bubbly Ruby
When the night calls for a little bit 'o bubbly, Hot Ruby adds the perfect twist to turn the same old champagne you always drink into something extraordinary. It's homemade with a sophisticated side.
Equal Parts Hot Ruby and
Champagne or Spumante
Mix and serve chilled
Fireside Ruby
When it's time for a night out, or you need a little more fire in your life, grab a bottle of pecan whiskey or bourbon and a jar of Hot Ruby. It's like they are made for each other.
1 Part Pecan Whiskey or Bourbon*
2 Parts Hot Ruby
Mix and serve warm or over ice.
*Try Revel Stoke Pecan Whiskey or Select Club Pecan Praline Whiskey. Both are amazing
Ruby on the Beach
Ahhh…white sand and clear blue water.
2 oz. Hot Ruby
2 oz. Club Soda
1 1/2 oz. Grapefruit Vodka
1/2 oz. Malibu Rum
Mix and serve over ice.
Paloma Rojo (Red Dove)
Tequila fans love this refreshing cocktail!
3 oz. Hot Ruby
1 oz. Tequila
1 oz. Pink Grapefruit Juice
Mix and serve over ice with a lime garnish.
Summer Ruby
Perfect for a day lounging by the pool or relaxing on the beach, Hot Ruby mixed with coconut rum or vodka is the ultimate summer drink.
1 part Coconut Rum or Vodka
2 parts Hot Ruby
1 part Club Soda
Mix and serve over ice.
Saint Ruby's Punch
Headed to a wedding shower, baby shower or luncheon?
Mix two 2-liter bottles of chilled orange sparkling water and 1 gallon of Hot Ruby.
Sparkling Ruby Punch
Add Hot Ruby to your punch for a twist that makes everyone feel at home.
Mix one bottle of chilled ginger ale with one bottle of white sparkling grape juice, then add one gallon or four 32 oz. bottles of Hot Ruby.
Punch with a Punch
Mix 8 oz. of plain rum or vodka, 32 oz. of your choice flavored sparkling water and one 32 oz. bottle of Hot Ruby.
Serve punch chilled. Toss a handful of diced Granny Smith apples and cranberries for holidays or slices of limes, lemons, whole kumquats, and apples for other occasions. Beautiful!
Angel Ruby
Spread your wings a little…
2 oz. Hot Ruby
1 oz. Tequila
2 oz. Pomegranate Juice
Serve over ice.
…because everyone can use another angel!
Sangria
1 bottle each of Hot Ruby & red wine
1/2 cup rum
garnish with any or all of the fruits above
Miss Ruby's Mule
Equal parts Hot Ruby and Ginger Beer
1 oz. vodka or rum
Squeeze of lime
Marga Ruby Mimosa
Mix 1/8 cup tequila,
1/4 cup Hot Ruby
1/8 cup fresh lime juice
Garnish with a lime wedge
Add ice, top with Prosecco or Spumante
Hurricane Ruby
2 oz. of dark rum
2 oz. of light rum
2 oz. of Hot Ruby
1 oz. orange juice
1/2 oz. fresh lime juice
Serve over ice with a cherry and orange slice garnish